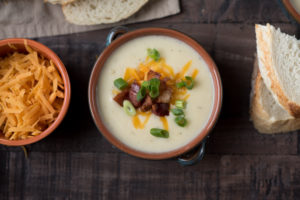 30 Minute Baked Potato Soup
Ingredients
6 Medium Russet Potatoes, peeled + diced (8 C worth)
2 C low sodium vegetable broth
1 C water
1/2 yellow onion, diced
4 tbsp unsalted butter
1/4 C Flour
1 1/2 C Milk
1 tsp garlic powder
1 tsp onion powder
1 tsp black pepper
3 tsp salt
Optional
bacon
sour cream
shredded cheddar cheese
chives
green onions, sliced
Instructions
Saute diced onions in the 4 tbsp of unsalted butter. When they begin to soften, sprinkle with flour and stir.
Pour in the vegetable broth and water.
Carefully dump in the diced potatoes. Season with garlic powder, onion powder, salt, and pepper.
Boil till fork tender. Approximately 20 minutes on a low simmer.
Warm milk in microwave for 1 minute. Stir into soup.
Scoop out half of the potatoes. Blend till smooth. If using a hand blender, pulse till desired consistency is reached.
Taste and add more salt and pepper if necessary.
Notes
I used an 8 quart dutch oven.I always use low sodium broths so I can control the salt. If using regular broth, lessen the salt!
Recipe by First and Full at https://firstandfull.com/30-minute-baked-potato-soup/