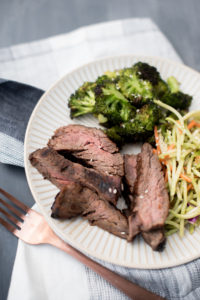 Asian Marinated Flank Steak
Yield 5 servings
An easy flank steak marinade perfect for weeknight grilling.  It's got soy sauce, ginger, garlic, and honey to create the most delicious and tender steak served with grilled vegetables and a ridiculously easy slaw.
Ingredients
1- 2 lbs of Flank Steak
1/3 C Soy Sauce
1/4 C Honey
3 Tbsp Balsamic Vinegar
1 tbsp Worcestershire
1/2 C Avocado Oil
4 cloves of Garlic, grated*
1 inch piece of ginger, grated*
Broccoli Slaw
1 bag of broccoli/ carrot slaw
1/2 C Asian Peanut Dressing (I used the one from Trader Joe's)
Instructions
Combine all the ingredients for the marinade in a bowl and whisk till combined.
Place the steak in a large freezer bag. Dump the marinade on top. Let marinade for at least 10 hours; 24 was best!
Grill till desired doneness. Baste with remaining marinade. Let rest on cutting board for 6 minutes before slicing.
To prepare slaw: toss slaw and dressing in a bowl till coated.
To prepare "grilled" broccoli: toss with oil, salt and pepper and cook on aluminum sheet pan. Stir occasionally till the florets begin to crisp up.
Notes
*if you don't have a microplane to grate the garlic and ginger, you can mince them up very finely.
Courses Dinner
Cuisine Asian
Recipe by First and Full at https://firstandfull.com/asian-marinated-flank-steak/