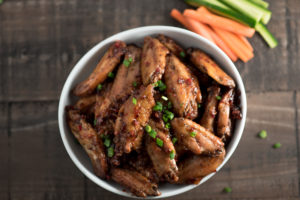 Baked Honey Asian Hot Wings
Yield 24 wings
Ingredients
24 chicken wing pieces
1/3 C Olive Oil
1 tsp salt +1 tsp pepper
For the Sauce
3-4 peppers, minced (I used 1 jalapeño, 1 Serrano, 1 red Fresno chili)
3/4 C Plum Jelly
1/4 C Soy Sauce
1/4 C Rice Vinegar
1/4 C hot honey*
2 tbsp ginger, minced
2 tbsp red onion, minced
1 tbsp garlic (2 cloves), minced
1 tsp of brown sugar
1 tsp pepper flakes
Instructions
Preheat oven to 425.
Line 1 or 2 baking sheets with foil. Lightly spray with nonstick spray.
Add the wings to a large bowl. Drizzle with the olive oil. Season with salt and pepper.
Place the wings on the prepared baking sheets. Make sure there is ample space between them.
Bake for 10 minutes. Flip. Bake for 10 more minutes.
To make the sauce: Add all the ingredients to a sauce pan. Let simmer on medium for 10 minutes. The mixture should thicken.
Remove chicken from oven. Toss with the sauce. Place back in the oven. Bake for 8 more minutes.
The wings should be sticky, still a little crispy, and DELICIOUS!
Notes
*If you don't have hot honey, use 1/4 C honey and 1 tbsp hot sauceRecipe adapted from Ree Drummond, Pioneer Woman
Recipe by First and Full at https://firstandfull.com/baked-honey-asian-hot-wings/