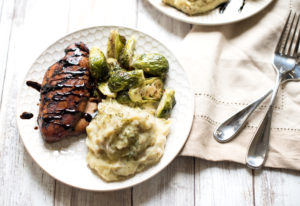 Grilled Balsamic Chicken and White Cheddar Mashed Potatoes
Yield 6 servings
Chicken breast marinated in honey and balsamic vinegar pair well with creamy white cheddar mashed potatoes and green vegetables. Topped with a thick balsamic reduction, dinner is looking good!
Ingredients
Balsamic Chicken Breast
1 1/2 lb of chicken breast
1 1/2 C of balsamic vinegar
1/4 C of olive oil
1 tbsp of Italian seasoning
2 tbsp honey
1 tsp of Worcestershire sauce
1 tsp soy sauce
1/2 tsp black pepper
Balsamic Glaze
1 cup balsamic vinegar (doesn't have to be expensive brand)
2 tbsp brown sugar
1 tbsp soy sauce
1 tbsp olive oil
1/4 tsp of salt
White Cheddar Mashed Potatoes
1 lb yellow potatoes
2 cloves of garlic, minced
4 tbsp butter
1/4 C whole milk
1/2 C of Shredded white cheddar cheese
1/4 C of shredded parmesan cheese
1 tsp parsley
salt + pepper to taste
Instructions
To Prepare the chicken: Whisk all ingredients (balsamic vinegar, olive oil, Italian seasoning, Worcestershire sauce, salt and pepper) together and pour over chicken breast. Let marinate for at least an hour.
Discard left over marinade and grill each chicken breast till cooked throughout.
For the Balsamic Glaze: Combine balsamic vinegar, brown sugar, soy sauce, olive oil, and salt in a sauce pot.
Simmer on low till it's a syrup like consistency. About 20 minutes.
White Cheddar Mashed Potatoes:. Boil the potatoes in generously salted water. When they are fork-tender, drain them and pour them into a mixing bowl.(approx. 14 mins)
Add your minced garlic, butter, milk, salt + pepper, parsley flakes, and cheese to the hot potatoes. Stir or whip!
Spoon them into an oven safe dish and broil for 5 minutes.
Amount Per Serving

Calories 366

% Daily Value

Total Fat 15 g

23%

Saturated Fat 2 g

10%

Unsaturated Fat 11 g

Cholesterol 79 mg

26%

Sodium 306 mg

13%

Total Carbohydrates 23 g

8%

Sugars 20 g

Protein 30 g

60%
Recipe by First and Full at https://firstandfull.com/balsamic-chicken-white-cheddar-potatoes/