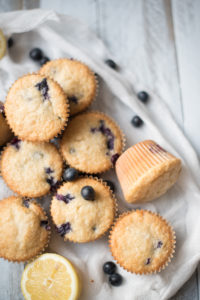 Blueberry Lemon Muffins
Yield 12 muffins
Fresh blueberries bright lemon zest, all baked in a light fluffy muffin.
Ingredients
1 1/2 C flour
3/4 C sugar
1 tsp salt
2 tsp baking powder
1/4 C coconut oil, melted
1/4 C apple sauce
1 egg
1/3 C milk
1 tsp vanilla extract
1/2 tsp fresh lemon juice
1 cup of blueberries
Zest of 1 lemon
Instructions
Preheat oven to 350 degrees.
In a medium bowl, combine the coconut oil, apple sauce, egg, milk, fresh lemon juice, sugar, and vanilla extract with a whisk. The mixture might appear "separated" but don't worry!
In a separate bowl combine the dry ingredients: flour salt, and baking baking powder.
Slowly pour the dry ingredients into the wet being sure to barely mix; you just want MOST of the flour to be mixed in. A couple lumps is ok.
Finally, add the fresh blueberries and lemon zest. Once again, barely stir.
Portion in a nonstick muffin tray or use muffin liners.
Bake for 15- 18 minutes. toothpick trick.
Recipe by First and Full at https://firstandfull.com/blueberry-lemon-muffins/