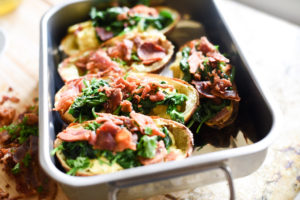 Breakfast Baked Potato Skins
Yield 10 servings
A fun, hand held breakfast option: Crispy Breakfast baked potato skins topped with light scrambled eggs, garlicky spinach, chopped, crispy bacon, and a dollop of fresh pesto. 
Ingredients
5 Russet Potatoes, washed and dried
8-10 pieces of bacon
5 Eggs
3 C Uncooked Spinach
1 clove of garlic
2 tbsp ghee, melted (or you could use butter)
Arugula Pesto* or pre-packaged pesto (optional)
parsley, chopped
kosher salt
olive oil
salt+ pepper
Instructions
Preheat the oven to 450 degrees. (Skip this step if using air fryer)
Rub the potatoes with olive oil and kosher salt.
Place in the oven for 45 minutes or till crispy on the outside and done on the inside. If using the Air Fryer, cook on 390 degree for 30-40 minutes.
Removed cooked potatoes from the oven/ air fryer and cut in half horizontally.
While the potatoes cool down, prepare the scrambled eggs.
Prepare the garlicky sautéed spinach: Sauté spinach in olive oil with 1 clove of minced garlic. Season with salt and pepper, to taste.
Cook the bacon. (according to the package) Roughly chop.
Scoop out most of the flesh of the halved potatoes. Reserve for another recipe. (If you baked the potatoes, place skins back in the oven for 8 minutes for maximum crispiness.)
Brush the inside of the potato skins with melted ghee (or butter), top with scrambled eggs, sautéed spinach, and chopped bacon. Garnish with chopped parsley.
Top with a dollop of pesto. Enjoy!
Courses Breakfast
Recipe by First and Full at https://firstandfull.com/breakfast-bacon-potato-skins/