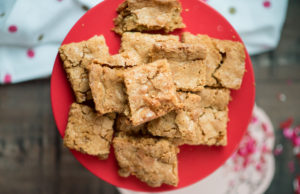 Butterscotch Cookie Bars
These delicious cookie bars are chewy on the inside and just crispy enough around the edges. They are full of the buttery, warm, and rich flavor of butterscotch and will be loved by all!
Ingredients
1C Flour
1 egg
1/2 C butter, softened
1/2 C sugar
1/2 C brown sugar
2 tsp vanilla extract
1/2 tsp baking powder
1/4 tsp salt
2/3 C butterscotch chips
Instructions
Preheat oven to 350 degrees. Prepare an 8x8 baking dish by lining with a sheet of parchment paper or spraying with nonstick cooking spray.
Cream together the butter, sugar, and brown sugar. Once pale in color, add the egg and vanilla extract.
In a separate bowl, combine salt, baking powder, and flour. Add to creamy mixture. DON'T OVER MIX.
With a spatula, gently fold in butterscotch chips.
Spread into prepared pan and bake for 30- 35 minutes or until the top starts to crack.
Let cool before cutting into squares.
Recipe by First and Full at https://firstandfull.com/butterscotch-cookie-bars/