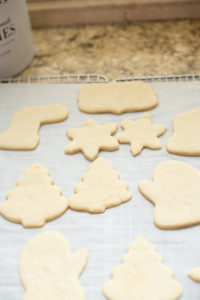 Fail Proof Sugar Cookies for Decorating
Yield 24-36 cut-out cookies
Delicious, buttery, and smooth cut-out sugar cookies perfect for your favorite holiday cookie cutters and adornments. They always hold their shape and stand up well to ALL the frosting and sprinkles! 
Ingredients
3 C Flour + more for flouring your surface
1-1/4 C Sugar 
1 C unsalted butter, softened (2 sticks)
1/4 C Cream Cheese, Softened 
1 egg
1 tsp vanilla extract
1/4 tsp almond extract (optional)
3/4 tsp baking soda
1/4 tsp baking powder
3/4 tsp kosher salt
2 tsp cornstarch 
Adornments
Instructions
Preheat the oven to 375 degrees. 
Cream together the butter, cream cheese, and sugar till a smooth, pale mixture. 
Add the egg, vanilla extract, and almond extract; mix till well combined.
In a separate bowl, add the dry ingredients: flour, baking soda, baking powder, salt, and cornstarch. Stir to combine.
Add the dry ingredients into the butter mixture in batches. Stir slowly till barely combined. 
Sprinkle a little flour a clean surface and dump out the dough.* Roll till 1/4-1/3 inch thick. Use cookie cutters to cut desired shapes and place on a baking sheet lined with parchment paper. 
[OPTIONAL] Place cut-out cookies in the freezer for 10-15 minutes (or the fridge for 1 hour). This will insure they hold their shape best in the oven. 
Bake for 10-12 minutes. The top of the cookies will remain pale while the bottoms will be slightly browned. Remove to a cooling rack till ready to decorate! 
Notes
* Make sure your rolling surface, rolling pin, and cookie cutters are well floured. If the dough begins to stick, scrape it up, add more flour and start again! 
If your dough begins to warm, wrap it in plastic wrap and refrigerate. 
Courses Dessert
Recipe by First and Full at https://firstandfull.com/fail-proof-cut-out-sugar-cookies/