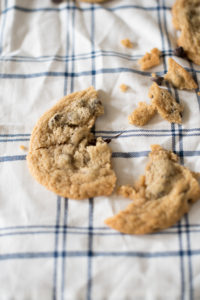 Gluten- Free Chocolate Chip Cookies
Yield 24 cookies
Easy, Gluten- Free Chocolate Chip cookies with Jovial Gluten- Free Pastry Flour. Tender, crispy on the outside, melty chocolate chips, and STILL Gluten- free!  
Ingredients
1 C of butter (2 sticks), softened
1 C brown sugar
1/2 C white sugar
2 eggs
1 tsp vanilla extract
2- 1/2 C JOVIAL Gluten- Free Pastry Flour
2 tsp arrowroot powder (or 2 tsp cornstarch)
2 tsp milk powder
3/4 tsp baking soda
1/2 tsp kosher salt
2 C chocolate Chips
Instructions
Preheat Oven to 375 degrees.
With a mixer, cream together the softened butter, brown sugar and white sugar till smooth.
Add the eggs and vanilla extract to the butter/ sugar mixture.
In a separate bowl, combine the Jovial Gluten- Free Pasty Flour, arrowroot powder, milk powder, baking soda, and kosher salt.
In batches, add to the wet ingredients till JUST combined. Don't over mix! Stir in the chocolate chips.
Using a tablespoon or cookie scoop, add portions of dough to a parchment lined cookie sheet; placing them 2 inches apart.
Bake for 10-12 minutes or till the edges begin to brown.
Notes
If you don't have a stand mixer or hand mixer, use a whisk!
Courses dessert
Recipe by First and Full at https://firstandfull.com/gluten-free-chocolate-chip-cookies/