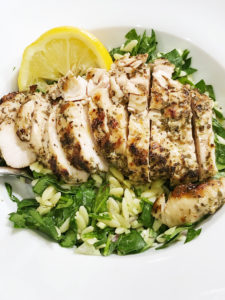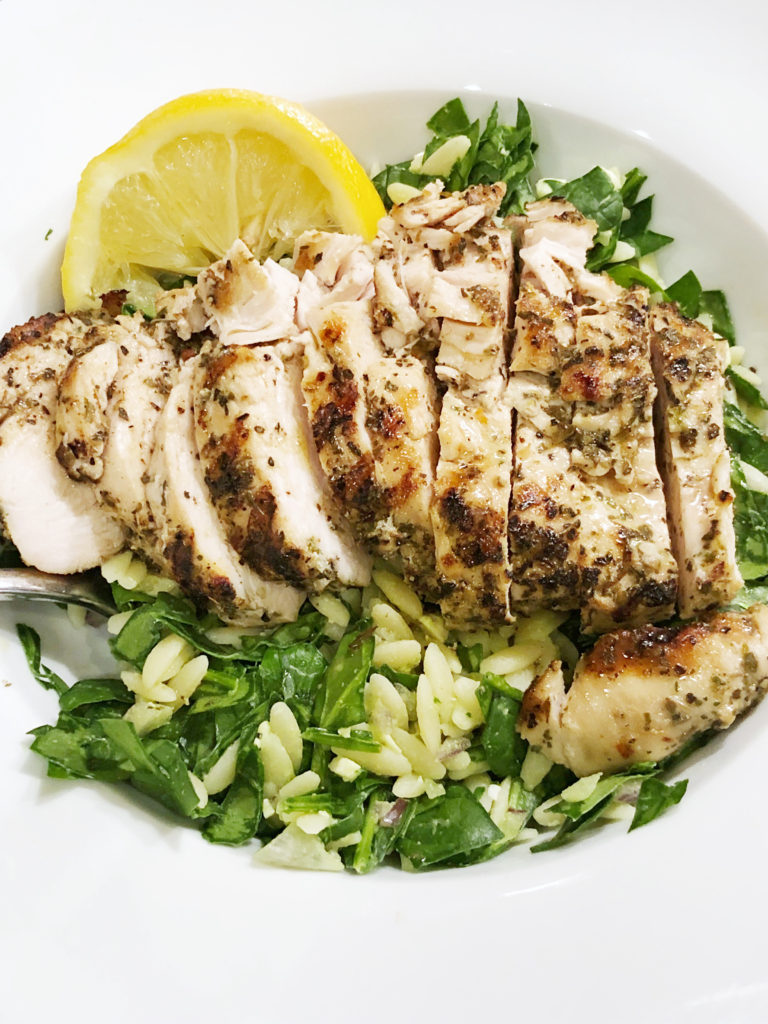 Greek Grilled Chicken and Spinach Orzo Salad
Yield 5 Servings
Greek marinated chicken served over a warm orzo and spinach salad with salty feta and red onion drizzled with a sweet/ tart red wine vinaigrette. 
Ingredients
3 Chicken Breast
3 tbsp Mediterranean Greek Herb Blend (I used Spiceology)
2 tbsp olive oil
1 tsp apple cider vinegar
Spinach Orzo Salad
3-4 C spinach, chopped
1 1/2 C Orzo, cooked according to the package
1/2 C crumbled Feta
1/2 Red onion, diced
Juice of 1/2 a lemon
salt+pepper
Red Wine Vinaigrette
1/3 C red wine vinegar
1/3 C olive oil
1 tbsp balsamic vinegar
1 tsp honey (or up to 1 tbsp depending on personal preference)
1/2 tsp oregano
1/4 tsp basil
salt+ pepper
Instructions
1. Make a marinade: Combine the Mediterranean Herb Blend with the olive oil and apple cider vinegar. Pour over the chicken. Let marinate for at least 2 hours if you can!
2. Grill the chicken breast. Discard remaining marinade. Slice the chicken into strips.
3. Assemble the Orzo Salad: add the chopped spinach, diced red onion, crumbled feta and finally the cooked orzo into a large bowl. Squeeze lemon juice over the entire bowl and season with a pinch of salt + pepper.
4. Add all the ingredients for the red wine vinaigrette to a blender or bowl. Mix or whisk vigorously till all the ingredients are incorporated. Taste and season with salt and pepper as necessary. Adjust the amount of honey if too tart.
5. Serve the grilled and sliced chicken breast over the spinach orzo salad. Drizzle with the red wine vinaigrette.
Courses Dinner
Recipe by First and Full at https://firstandfull.com/greek-grilled-chicken-orzo-salad/