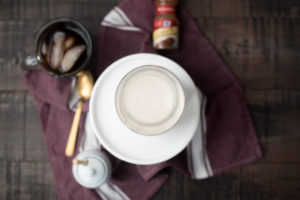 Homemade Honey Cinnamon Coffee Creamer
Yield 24 2 tbsp servings
An easy homemade substitute for your favorite coffee creamer. Milk + cream flavored with honey and cinnamon, this creamy concoction will have you excited for you next cup of coffee! 
Ingredients
2 C Milk
1 C half and half
1/4 honey
1 tsp cinnamon
1 tsp vanilla extract
Instructions
Add all the ingredients to saucepan and get up to a simmer. Stir occasionally. Once it begin to boil remove it from the heat and let cool. Transfer to a container with a lid and store in to fridge fro up to 9 days.
Notes
I add it to coffee concentrate and even my hot coffee. A little goes a long way so start with less, stir and add more as necessary.
Recipe by First and Full at https://firstandfull.com/homemade-honey-cinnamon-coffee-creamer/