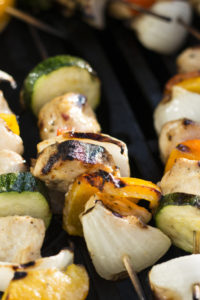 Honey Chipotle Chicken Kabobs
An easy meal perfect for a week night or a tailgate. Crisp grilled vegetables and sweet and spicy chicken.
Ingredients
For the marinade you're going to need:
1/3 cup of Honey
½ cup Apple Cider Vinegar or Red Wine Vinegar
1 cup Vegetable Oil
Juice of half a lime
1 teaspoon Cumin
½ teaspoon of Salt
½ teaspoon of Pepper
1 teaspoon Chipotle Powder
3 cloves of crushed garlic
¼ teaspoon Red pepper flakes
1/2 teaspoon Oregano
1 pound of Chicken breast; diced in 2-inch cubes
1 Yellow Onion, peeled and cut in wedges
1 Zucchini, sliced in rounds
1 Yellow Squash, Sliced in rounds
1 cup of Cherry Tomatoes
1 Bell Pepper, cut into 2 inch pieces
Sweet Peppers (optional)
Mushrooms (optional)
Instructions
Whisk ALL ingredients for marinade in a large bowl. Add cubed chicken pieces. Marinate for 30 minutes to 8 hours.
Wash and chop vegetables. Toss with a little vegetable oil, salt and pepper.
Preheat grill to 400°F.
Drain and discard marinade from the chicken. Thread chicken and vegetables on skewers.
Place Skewers on grill and cook for 12- 15 minutes turning as needed until chicken is fully cooked.
Courses Quick, Grill, Tailgate Approved
Recipe by First and Full at https://firstandfull.com/honey-chipotle-chicken-kabobs/