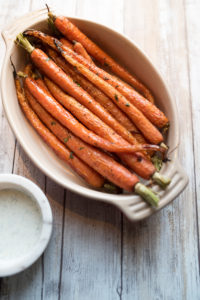 Honey Herb Roasted Carrots
Yield 4 servings
An incredibly easy side dish featuring carrots, honey, fresh herbs and your favorite cooking oil!
Ingredients
1 lb fresh carrots, washed*
3 tbsp avocado oil (or coconut oil)
2 tbsp approx. of honey
2 tbsp of fresh herbs, chopped (options: parsley, dill, basil, thyme, rosemary, sage)
1/2 tsp salt + 1/4 tsp pepper
Instructions
Preheat the oven to 425 degrees. Line a baking sheet with foil.
Place the carrots on the baking sheet and drizzle with the oil. Roll carrots around in the oil.
Season with salt and pepper.
Drizzle with honey.
Sprinkle on fresh chopped herbs.
Bake for 15- 18 minutes. The bottoms with start to brown and the whole carrot will be tender.
Notes
IF your carrots are large. Slice them in half to speed up the cooking process.
Recipe by First and Full at https://firstandfull.com/honey-herb-roasted-carrots/