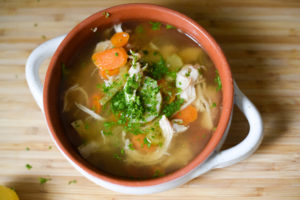 Instant Pot Chicken and Vegetable Soup
Yield 6-8 Bowls
This soup is comforting, surprisingly flavorful, and bright due to the healthy squeeze of lemon juice.
Ingredients
1 carton of vegetable broth (32 oz.), low sodium
1 pound of chicken breast
4 C of water (32 oz.)
1 onion
2 cloves of garlic, peeled and smashed
1 inch of ginger, sliced 
mixed herbs (parsley, chives, dill) thyme of would have been great! 
celery
carrots
parsips (optional)
minced ginger
minced garlic
chopped parsley
zucchini, sliced thinly into ribbons* 
1 lemon
1 tsp salt
1 tsp pepper
Instructions
Add the first 7 ingredients to the instant pot (chicken included). HIGH Pressure 5 minutes. Manual release. The chicken wont be completely cooked yet.
Fish out the herbs, whole garlic cloves, and onion (or you could leave it).
Add the chopped veggies (EXCEPT the zucchini) and do HIGH pressure for 3 minutes with Manual release or use the SAUTE feature, lid off for 10 minutes. This insures the veggies don't overcook and turn mushy. Season with salt and pepper. Add the fresh lemon juice.
Remove chicken breast and shred with 2 forks. Add back to the soup.
To serve, place zucchini ribbons or noodles in the bottom of a bowl. Ladle the soup over the top and garnish with a bunch of chopped parsley and an additional squeeze of lemon juice.
Notes
*optional; use cooked noodles if desired. 
Recipe by First and Full at https://firstandfull.com/instant-pot-lemon-chicken-soup/