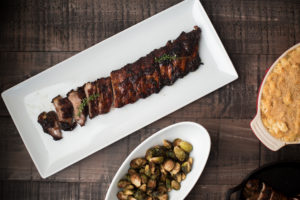 Italian Honey Garlic Baked Ribs
These delicious Italian Honey baked ribs are rubbed down with a delicious dry rub and smeared with crushed garlic. They're baked till tender and brushed with honey to finish.
Ingredients
1-2 racks of baby back ribs
1/4 C Italian seasoning
2 tbsp brown sugar
1 tsp parsley, dried
1/2 tsp salt
1/4 tsp black pepper
4 cloves of garlic, grated (run the cloves of garlic over a microplane or mince very finely)
1/4 C honey
Instructions
In a small bowl combine the ingredients for the dry rub.
Generously rub both sides of the ribs with the dry mixture. Rub on the garlic.
Tightly wrap in foil and let marinate for at least 1 hour.
Preheat oven to 350 degrees. Bake for 1:30 or till they start to tear apart. brush with honey and place back in the oven for 5 mins. The ribs will be stick and tender when done!
Recipe by First and Full at https://firstandfull.com/italian-honey-baked-ribs/