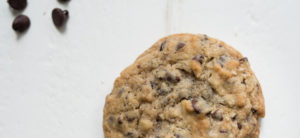 Oatmeal Double Chocolate Chip Cookies with Walnuts
Yield 3 dozen
Ingredients
1/2 cup rolled oats, chopped
2-1/4 cups all-purpose flour
2 tsp. baking soda
1 tsp. salt
1/4 tsp. cinnamon
8 oz. cup unsalted butter (2 sticks), softened
3/4 cup brown sugar
3/4 cup granulated sugar
1-1/2 tsp. vanilla
1/2 tsp. lemon juice
2 eggs
3 cups miniature chocolate chips
1-1/2 cups finely chopped walnuts
Instructions
Prepare oats and walnuts. Use a blender /or food processor to pulse the rolled oats till they are roughly chopped, this gives you a chewier cookie.
Cream together butter, sugar, vanilla extract, and lemon juice. Mix in the eggs one at a time, until combined.
In a separate bowl, combine dry ingredients (flour, baking soda, salt, and cinnamon). Stir into wet ingredients till dough forms. Gently fold in the oats, walnuts, chocolate chips.
Chill the dough overnight. BE PATIENT!*
Bake cookies at 325 degrees for 15-18 minutes. You are looking for barely brown edges and cracked tops.
Let cool, Enjoy!
*It's easiest to scoop the dough onto plates covered with wax paper before you refrigerate the dough. Scooping cold dough is not fun.
Courses cookies
Recipe by First and Full at https://firstandfull.com/oatmeal-double-chocolate-chip-cookies-walnuts/