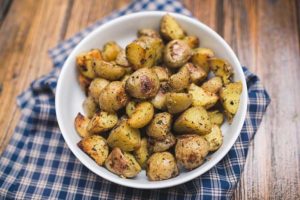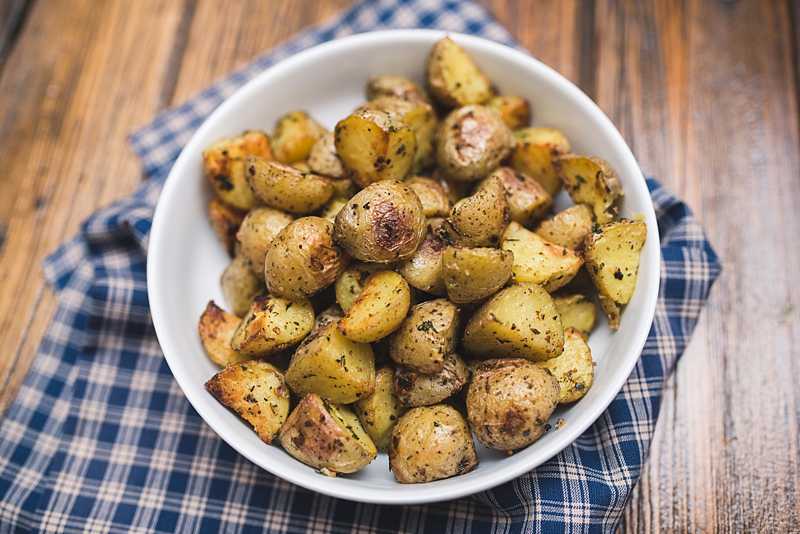 Whole 30 Oven Roasted Yukon Gold Potatoes
Yield 6 servings
An easy go-to side dish. These roasted Yukon gold potatoes are crispy on the outside and soft and almost creamy on the inside. They are beautifully seasoned and pair well with everything! 
Ingredients
2 lbs of yukon gold potatoes, halved
2-3 tablespoons of olive oil
1 1/2 tsp salt + 1 tsp pepper
1 1/2 tsp garlic powder
fresh thyme and/or rosemary; chopped (perfect time to use those left over herbs)
Instructions
Preheat oven to 425 degrees.
Wash and halve the potatoes. Pat dry.
In a bowl, toss potatoes, olive oil, salt, pepper, garlic powder, and chopped herbs
Toss till the potatoes are fully coated.
spread evenly on baking sheet.
Roast for 18- 24 minutes. It really depends on your oven. Flip the potatoes and shake the pan when you start to see brown, crispy edges; usually halfway.
Enjoy!
Recipe by First and Full at https://firstandfull.com/oven-roasted-yukon-gold-potatoes/