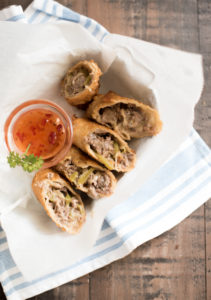 Philly Cheesesteak Egg Rolls
Yield 15 Egg Rolls
Philly Cheesesteak Egg Rolls stuffed with thinly sliced steak, seasoned peppers and onions, smothered with a creamy cheese sauce and fried.
Ingredients
1lb thinly sliced ribeye*
1 green bell pepper, thinly sliced
1 yellow onion, thinly sliced
1/2 c provolone cheese
1 oz velveeta
3/4 c milk
garlic powder
1 tbsp butter
1/2 tsp salt
1/ 2tsp black pepper
1 tsp Worcestershire
egg roll wrappers
1/3 C sweet chili sauce, for dipping
Instructions
In a large skillet on high heat, melt the 1tbsp of butter and brown the steak till it begins to brown; about 4-6 minutes.
Add the thinly sliced bell peppers and onion. Stir till they become tender; about 3 minutes.
Turn the heat down to medium-low and add the velveeta cheese, provolone cheese, and milk. The mixture will begin to get creamy after about 4 minutes. Watch carefully and continue to stir to avoid burning!
Season with Worcestershire sauce, garlic powder, salt, and pepper. Remove from the heat and let cool for 5 minutes.
TO ASSEMBLE: brush the side of the egg roll wrapper with water to help them stay together after rolled.
Turn the wrapper so that the wrapper looks like a diamond; with a corner facing you. Place approx. 2 tbsp of filing in the lower middle of the diamond and fold the corner closest to you over the filling.
Tightly fold the sides over the middle, then roll the filling towards the opposite corner. Set aside till ready to fry. Repeat with remaining wrappers and filling.
TO FRY: Preheat the oil to 350 degrees. (Or try one of these tips to know when oil is ready)
Fry them in batches till golden brown on both sides and drain on a plate lined with paper towels.
Serve HOT with sweet chili sauce!
Notes
I found the thinly sliced ribeye in the freezer section.
Courses Appetizer
Recipe by First and Full at https://firstandfull.com/philly-cheesesteak-egg-rolls/