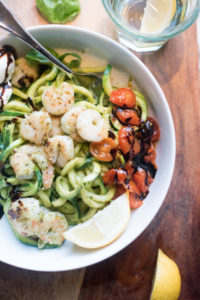 Quick and Easy Pesto Shrimp with Zoodles
Yield 3 servings
A light and delicious dish perfect for hot summer days. Shrimp and Zucchini noodles tossed in a delectable pesto with fresh burrata cheese and oven roasted tomatoes. Everything gets drizzled with a sweet balsamic glaze. Best part: It can be made in 20 minutes.
Ingredients
3 Zucchini, spiralized
1 pound of shrimp, devained
10- 15 grape tomatoes, halved
1/4 C pesto and 2 tbsp pesto, divided
Burrata or fresh mozzarella, sliced
2 tbsp balsamic glaze*
1 tbsp olive oil
salt + pepper
1 lemon
Instructions
Drizzle the halved tomatoes with olive oil and season with salt and pepper. Roast at 425 degrees for 15 mins.
Sauté shrimp in 2 tbsp of pesto for 5 mins. Add zucchini noodles and 1/4 C of pesto. You just want to coat the 'zoodles' and warm them.
To assemble: Add zoodles and shrimp to bowl. add burrata and roasted tomatoes. Drizzle with balsamic glaze and season with a little more salt (maybe 1/4 tsp).
Enjoy!
Notes
If you aren't ready for straight zoodles, add a little cooked spaghetti.
Here is a great recipe for a basil pesto.
You can purchase a balsamic glaze from the store or simmer 2 C of balsamic vinesar and 1/2 C brown sugar on the stove for 20 mins. It should reduce by half.
Recipe by First and Full at https://firstandfull.com/quick-easy-pesto-shrimp-zoodles/