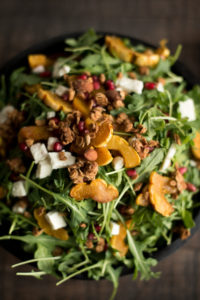 Delicata Squash Maple Salad
Yield 4-6 servings
Delicious Fall Inspired Salad: Roasted Delicata Maple Salad with roasted squash, pomegranate, feta, granola, and a delicious apple cider vinaigrette. 
Ingredients
1 delicata squash, sliced into quarter moons
1 tsp maple syrup (optional)
olive oil
salt + pepper
arugula
feta
pomegranate arils
1/3 C Gr8Nola
Apple Cider Maple Vinaigrette
apple cider vinegar
maple syrup
dijon mustard
salt + pepper
Instructions
Preheat the oven to 400 degrees.
Roast the squash: Spread the sliced squash on a baking sheet and drizzle with olive oil, 1 tsp of maple syrup (optional), and season with salt and pepper. Roast for 20- 25 minutes.
Prepare the vinaigrette: Add the dijon mustard, maple syrup, and apple cider vinegar to a medium bowl. Whisk them together and slowly drizzle the olive oil while still whisking vigorously. Season with salt and pepper to taste.
Assemble Salad: Layer all the ingredients in a large mixing bowl and gently toss with vinaigrette.
Courses Salad
Recipe by First and Full at https://firstandfull.com/roasted-delicata-maple-salad/