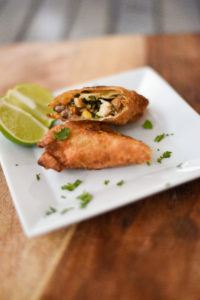 Southwestern Egg Rolls
Crispy Fried Eggrolls full of Southwestern Chicken, sweet corn, black beans, and plenty of cheese
Ingredients
1 ½ C Shredded or diced chicken breast
1 ½ C sweet corn
1 can of black beans
½ a yellow onion, diced
2 cloves of garlic, minced
1 package of frozen, chopped spinach, thawed with all the excess water squeezed out
1 ½ C Monterey Jack cheese
1 pack of egg roll wrappers (approx. 15)
¼ C fresh cilantro, roughly chopped
Juice of ½ a lime
½ jalapeno, seeds removed (optional)
1 Tbsp cumin
1 tsp salt (more to taste)
1 tsp pepper (more to taste)
1 Tbsp garlic powder
1 tsp chili powder
vegetable oil, for frying
1 C of water to seal the egg roll wrappers
For the Avocado Dipping sauce
1 Container of greek yogurt
½ C Milk
Juice of 1 lime
pinch of salt
½ tsp of pepper
1 avocado, ripe
1 tbsp cilantro
½ jalapeno (can be fresh or jarred)
Instructions
In a large skillet, saute the diced onions and jalapenos for about 4 minutes. Add the minced garlic.
Next, add the chicken, corn, black beans, and spinach. Stir that around for about 5 minutes. Season the mixture with the cumin, garlic powder, salt + pepper, and chili powder.
Add the chopped cilantro, shredded cheese, and lime juice. Once the cheese barely starts to melt, turn off the stove.
To fill the egg roll wrappers, lay them out one at a time in a diamond shape with a corner facing you. Place 1 heaping tablespoon of filling in the center. Roll it up and make sure to tuck in the sides.
Dip your finger in the cup of water and run it along the seam. This will make sure the filling doesn't leak out
Heat up the vegetable oil in a dutch oven or deep pot. Once hot enough, drop the eggrolls 2-3 at a time. Make sure to flip when one side is golden brown. (Approx. 5 minutes total)
Remove from oil and place on a plate lined with paper towels to soak up excess oil.
Avacado Dipping Sauce
The dipping sauce can't get any easier. Place all the ingredients in a blender, and pulse till smooth. Add more milk if too thick.
Recipe by First and Full at https://firstandfull.com/southwestern-egg-rolls/