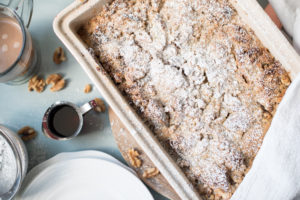 Stuffed Cinnamon Roll French Toast Casserole
Yield 8-10 Serving
Think homemade cinnamon rolls without all the work. Delicious French toast casserole stuffed with sweet cream cheese topped with a nutty, crunch streusel. 
Ingredients
6- 8 C Stale Challah Bread (or brioche, croissants, baguette, etc.), roughly torn into 2 inch pieces
8 eggs
1 tsp cinnamon
1/2 C milk
1 tsp sugar
8 oz cream cheese, softened
2 tbsp maple syrup
1 tbsp brown sugar
1/2 C flour
1/2 C brown sugar
1 tsp cinnamon
1/2 C pecans, chopped
1/2 C (1 stick) butter, cold + cut into small 1/2 cubes
1/4 tsp salt
Instructions
Preheat the oven to 350 degrees. Spray an 11x13 baking dish with non-stick spray or lightly coat with butter.
Prepare Custard Mixture: In a medium bowl, whisk together the eggs, milk, and sugar.
Prepare Cream Cheese Filling: In a separate bowl, stir together the softened cream cheese, maple syrup, and brown sugar.
Layer 1/2 the bread pieces in the prepared baking dish. Pour 1 C of the the well- mixed egg mixture over the bread pieces.
With a cookie scoop or spoon, drop dollops of the softened cream cheese mixture all over the bread pieces.
Repeat steps 4 + 5.
Prepare Crunchy Topping: In a small bowl, combine the flour, brown sugar, cinnamon, salt, chopped pecans and bubbled butter. Use a food processor, pastry cutter, 2 knives, or your hands to combine the mixture till crumbly. The mixture should resemble pebbles.
Sprinkle the crunchy topping over the entire dish.
Bake for 35- 40 minutes or till the top is golden brown*! The cook time depends on your baking dish**.
Remove from oven and let casserole cool for at least 5 minutes. Serve as is, or with a drizzle of maple syrup.
Notes
*If your casserole begins to brown to quickly, gently cover with foil and continue to bake.
**If you used a deep baking dish, the casserole might need a little longer in the oven.
Courses Breakfast/ Brunch
Recipe by First and Full at https://firstandfull.com/stuffed-cinnamon-roll-french-toast-casserole/