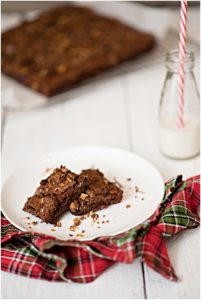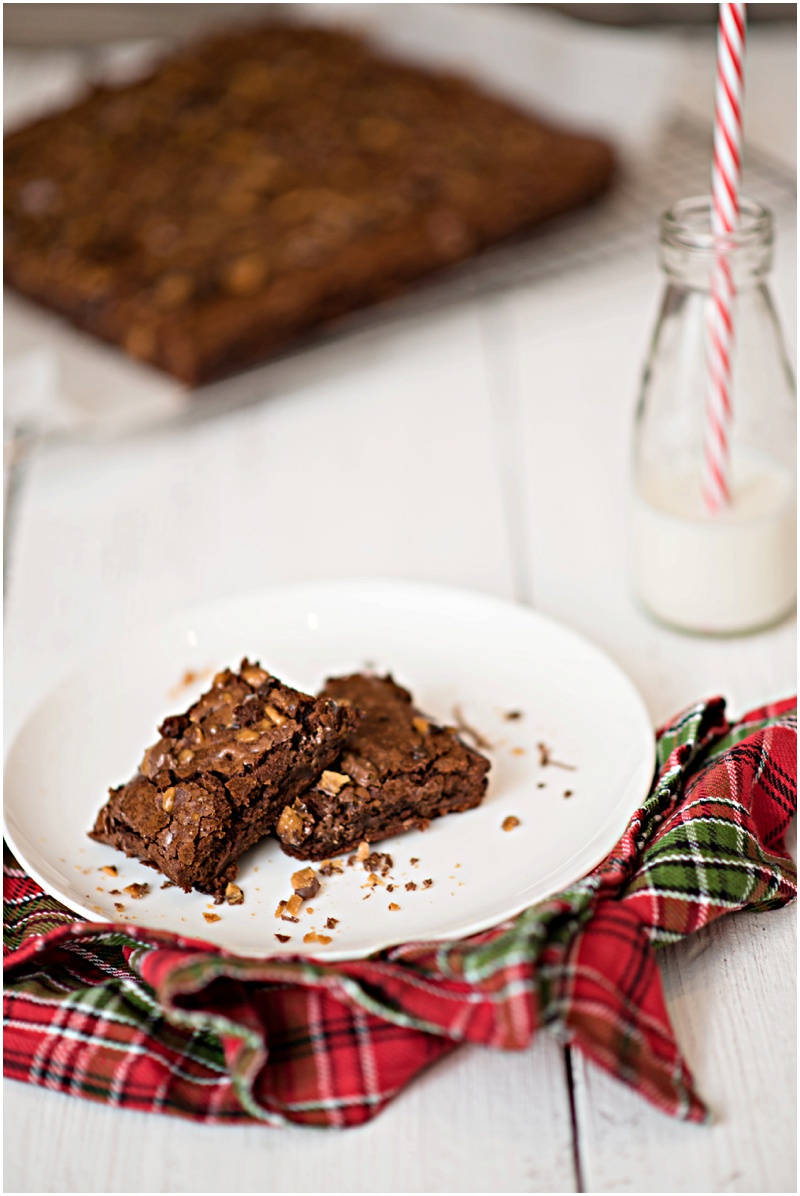 Santa's Favorite Treat: Toffee Brownies
Yield 24 brownies
Decadent Chocolate brownie topped with delicious melted toffee pieces!
Ingredients
1 1/4 C flour
1 tsp salt
2 tsp unsweetened cocoa powder
12 oz. baker's chocolate
1 C Butter, softened
1/2 C light brown sugar
5 eggs
2 tsp vanilla extract
1/4 C toffee pieces ( I used Trader Joes Chocolate covered toffee bars, crunched up)
1/2 C Toffee pieces for topping
Instructions
Preheat oven to 350. Cut a piece of parchment paper to fit the bottom of your pan and grease the sides.
In a bowl, whisk together the flour, salt, and cocoa powder.
In a double broiler (a.k.a a large glass bowl on top of a pot of steaming water), stir together chocolate and butter till melted and smooth. Keep stirring so it doesn't burn!
Remove bowl from heat and let cool for 5 minutes.
Add the eggs one at a time until mixture is combined. Stir in vanilla.
Add the flour to the mixture a bit at a time. Stir in 1/4 C chopped toffee pieces.
DO NOT OVER MIX. <— This is crucial to the texture of the brownies!
Pour batter into pan. Bake for approx. 30 minutes. Every oven is different so watch your brownies closely and use a toothpick to test doneness. It should come out clean with no crumbs or batter when done.
Remove from oven. Add remaining 1/2 C of toffee pieces on top. Let cool completely.
Courses Dessert
Recipe by First and Full at https://firstandfull.com/toffee-brownies/