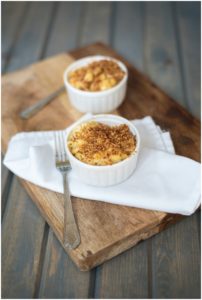 White Cheddar Mac and Cheese
Ingredients
1 lb of Vermont White Cheddar Cheese (2 C Shredded)
1/2 lb of Gouda (1 C Shredded)
1/2 lb of Macaroni noodles
2 Tablespoons of Butter
¼ C Flour
1 C Milk
1 C Heavy Cream
1 teaspoon of salt
1 teaspoon of pepper
¼ teaspoon of nutmeg
¼ c panko bread crumbs
1 Tablespoon of butter (for toasting bread crumbs)
Instructions
Boil Pasta. Drain
Melt 2 Tablespoons of butter in saucepan over medium heat. Add flour. Whisk butter and flour until combined and a warm brown color. (approx. 2 minutes)
add salt, pepper, and nutmeg.
Slowly add the milk + cream in increments. Keep stirring!
Sauce will thicken quickly. When it starts to simmer, remove from heat.
Grease a baking dish with butter or nonstick spray. Add drained pasta. I used an 8x8 dish but anything would work. Just make sure the pasta covers the bottom.
Next, pour the sauce evenly over the noodles. Add the shredded cheeses. Be generous! Stir it all together.
Prepare bread crumb topping. Melt 1 Tablespoon of butter and stir in panko until a golden brown. Sprinkle over the top of the cheesy pasta. Almost done!
Pop in a 325 degree oven for 12- 15 minutes.
Serve warm. Enjoy seconds.
Recipe by First and Full at https://firstandfull.com/white-cheddar-mac-and-cheese/