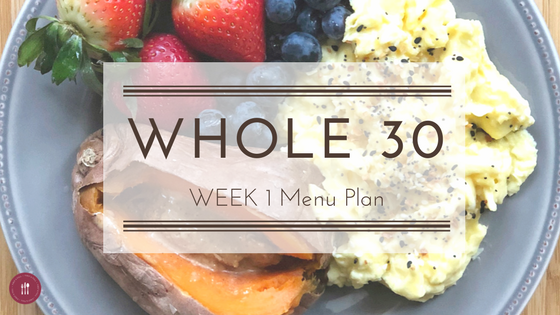 This year, my husband and I have decided to tackle the Whole 30 Program for the month of January. I did a live discussion on the Who, What, and Why earlier this week. Find the replay HERE. There were several people who asked for a few tips in getting started so I thought I would share my Whole30 Week 1 menu. Please send me a message if you have any questions!
Whole30 Week 1 Menu
BREAKFAST 

LUNCH 

DINNER

Pizza Frittata

Sloppy Joe* Stuffed Potatoes

TUESDAY

Leftover Pizza Fritatta + breakfast salad if needed

Leftover Sloppy Joe Stuffed potatoes

Shredded Beef Tacos* on Jicama shells w/ cauliflower rice, guac, pico

WEDNESDAY

Leftover Pizza Fritatta

leftover shredded beef on bed of spinach, fried plantains

THURSDAY

Sweet Potato Toast, eggs, and bacon

leftover veggies +roasted chicken breast

burgers on butter lettuce w/ caramelized onions and sweet potato wedges

Sweet Potato Toast, eggs, and bacon

leftover burgers  + sweet potato wedges

buffalo wings, brussel sprouts

+ bacon, roasted potatoes

SATURDAY 

Eggs, Plantains, Bacon

leftover buffalo wings, veggies, roasted potatoes

SUNDAY 

Kitchen Sink Hash (shredded beef, sweet potatoes, etc.)

leftover stir fry + riced sweet potato

Whole 30 Beef Chili*
*Make Extra for the Freezer
This next section details all the prep work I hope to do on Sunday or Monday. Prep work is going to be the key to success so save yourself some time by making double batches of dinner for lunch the following day, and have things you can still whip up when you absolutely don't feel like cooking.
MEAL PREP
Pizza Frittata
Roasted Chicken Breast
Sloppy Joe Mixture
Shredded Beef
turkey meatballs
Chop veggies:
veggies to snack on
veggies for pizza frittata
rinse spinach
bell peppers
Condiments
Pico de gallo
dipping sauce for veggies
Snacks to Have on Hand
Raw nuts
Lara Bars
apples, pears, and blueberries
Find the PRINT FRIENDLY VERSION HERE: