This Jambalaya has been a long time coming. My entire family is from Louisiana (some still live there, actually) and they are well versed in cajun and creole cooking. Jeff and I were craving something different and this idea popped in my head.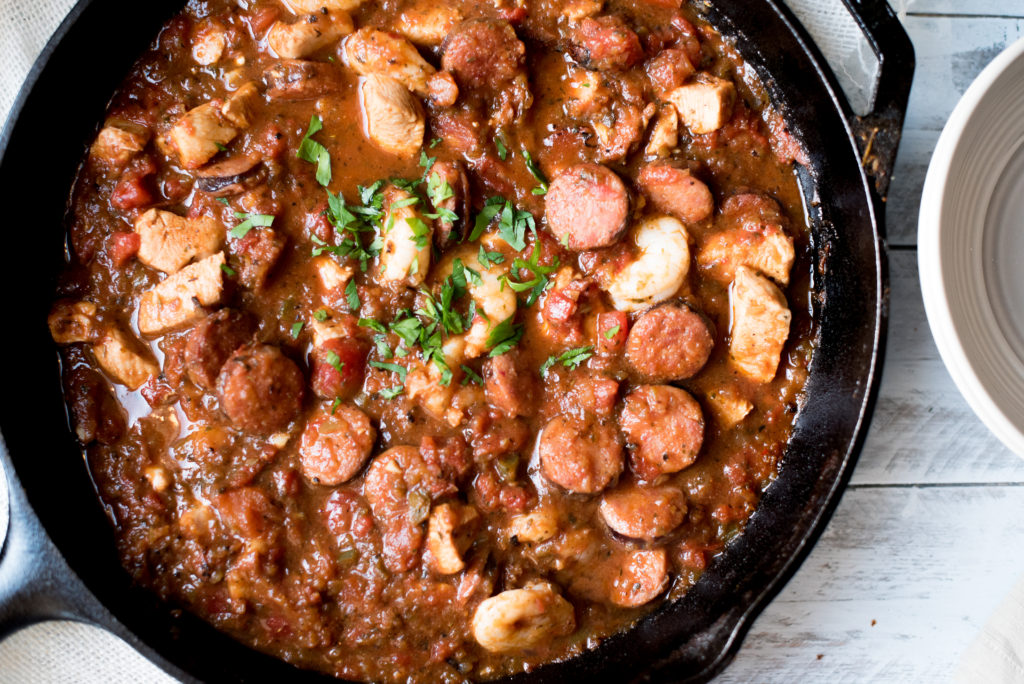 Now before all my Louisiana followers JUMP on me, this isn't a traditional jambalaya. Actually, according to my father, it's not jambalaya at all; the rice would need to have been cooked in the savory sauce. Well, I just didn't have the patience for that as dinner was to be served within the next hour and Jeff isn't too particular.
If you are still with me and willing to trying this easy, weeknight jambalaya recipe, you won't be disappointed. The flavors meld together after 30 minutes of simmering, the chicken still tender, and the shrimp perfectly cooked. The holy trinity blesses this pot of goodness and your family with thank you.
Depending on the creole seasoning you use, the salt content can vary. That's why I like to start with just 1/4 tsp. Make sure you taste the dish after cooking the shrimp and add more as you see necessary.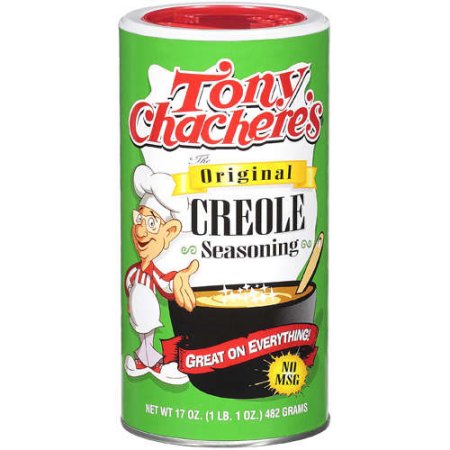 I used a food processor to chop my vegetables but it's definitely not necessary. I found the dish overall to be more flavorful with the vegetable chopped more finely. My holy trinity was slightly larger than a mince.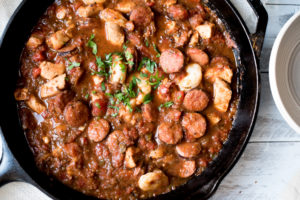 Print
Jambalaya in less than 30 mins
Yield 5 servings
This flavorful southern classic comes together in 30 mins thanks to the use of already prepared rice. Chicken, Shrimp, and sausage jambalaya! 
Ingredients
2 C rice, cooked*
1 pound of sausage. cut into 1 inch pieces. (we used a sugar-free kielbasa but andouille is traditional)
1 pound of chicken, cut in 2 inch cubes
1 pound of shrimp, peeled and deveined
1 yellow onion, diced
3 stalks of celery, diced
1 green bell pepper, diced
3 cloves of garlic, minced
1 can of fire roasted tomatoes (14 oz.)
2 1/2 C + 1/2 C, if too thick of chicken broth (low sodium)
1 tbsp oil
2 1/2 tsp Creole Seasoning (Like Tony Chachere's)
1/2 tsp thyme
1/2 tsp oregano
1/2 tsp garlic powder
1/2 tsp salt
1/4 tsp pepper
3 dashes of hot sauce (optional)
1 tbsp brown sugar
fresh parsley to garnish
Instructions
In a large heavy bottom pot or skillet (with high sides) heat up the oil and brown the sausage; About 3 mins each side. Remove from skillet and reserve on the side.
Remove about 1/2 the oil from the pan. Toss in the onion, celery, bell pepper, and garlic. Sauté till vegetables begin to soften.
Add the tomatoes and chicken broth. Let simmer for 4 mins.
Season with creole seasoning, thyme, oregano, cayenne pepper, garlic powder, salt and pepper.
Add the cubed chicken. Turn heat down to medium-low and let simmer for 12 minutes or until chicken is cooked all the way through. This is why it's important to cut your pieces small enough.
Toss in the shrimp and cook till opaque (about 5 mins)
Add dashes of hot sauce and sprinkle on brown sugar; TASTE! adjust salt if necessary.
Serve with rice and garnish with fresh parsley!
Notes
*This is not AUTHENTIC jambalaya. This is a quicker version that incorporates already cooked rice.** Depending on the cajun seasoning you use, the salt content can vary. That's why I started with such a small amount. Make sure you taste after adding the shrimp and add more as you see necessary. For a way to prepare this dish even quicker, do a rough chop on the onion, celery and bell pepper, and pulse them in a food processor till finely chopped.If your dish is too spicy, add another tsp of brown sugar and 1/4 C of chicken broth.
Cuisine cajun/ creole
 Just one more…