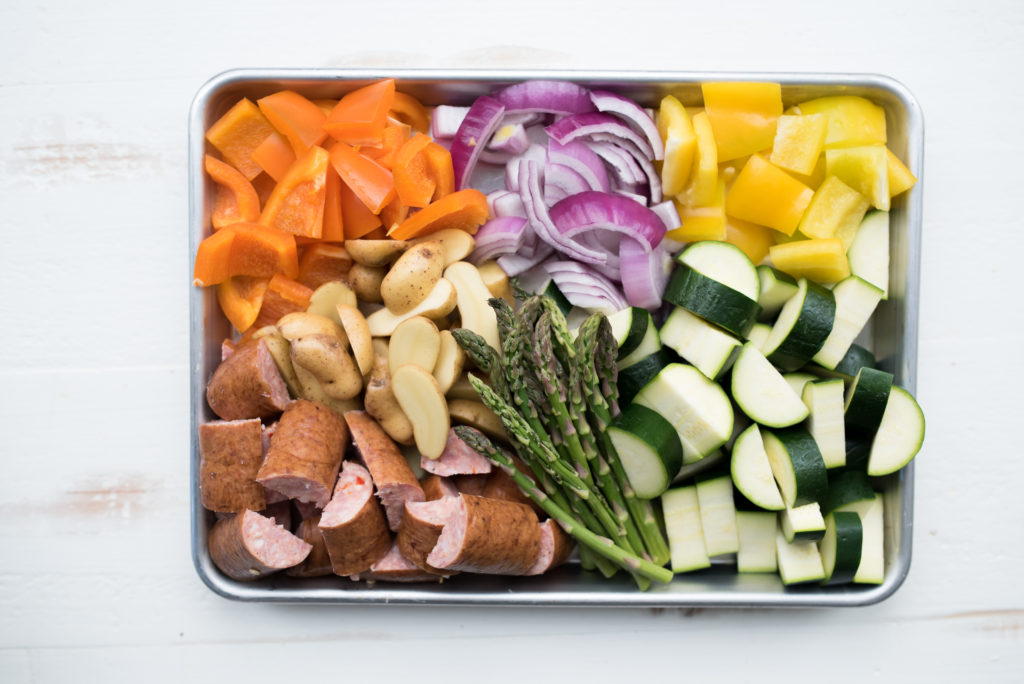 Summer is here! Truth be told, it's FELT like summer for a month now. Houston's spring probably feels like everyone else's summer but whatever. I can already picture all the pool days, cookouts, and picnics our summer will hopefully be full of. Summer for me, means more time outside and less time in the kitchen. Less time in the kitchen = less time doing dishes. It's a win-win.
There is a place for marinated meats and elaborate grilling menus but sometimes you need something easy like these foil packet dinners. No fuss, no long marinating periods, and like I said above, NO DISHES!
We used sausage and an array of colorful veggies for these but you can use anything! Chunks of steak, cubed chicken breast, different vegetables, etc.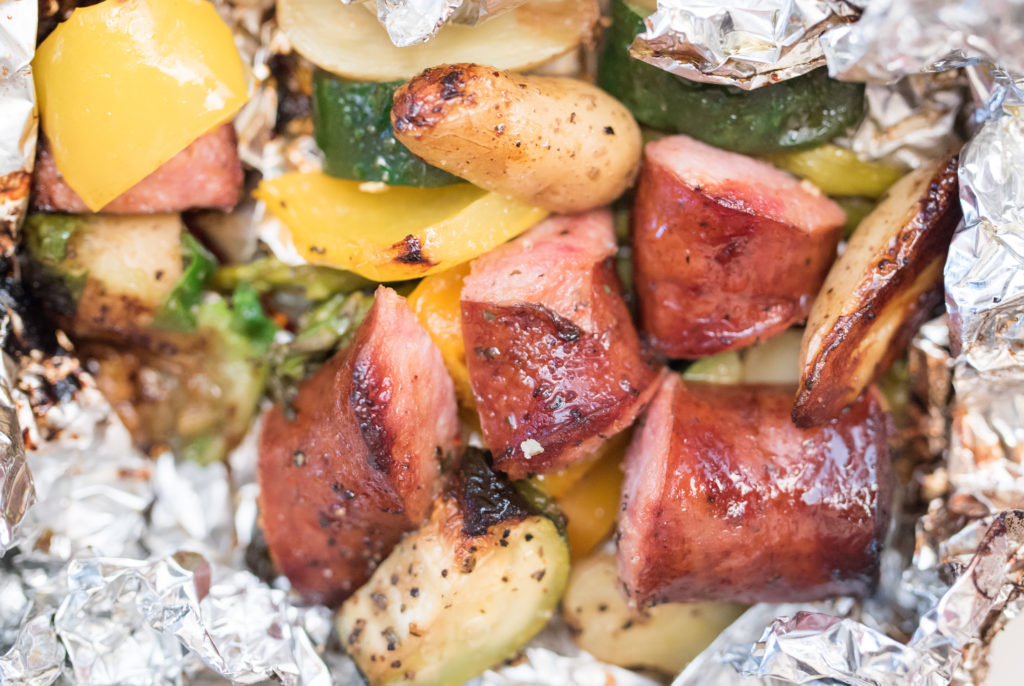 Because I feel like you are going to ask: Our favorite sausage is Pedereson Farms, no sugar added kielbasa.
I have never been camping; we aren't outdoorsy like that, but if we were I think these would be a pretty good move.
The key here is to adequately season your foil packets. Our favorite seasoning mix is anything from Flavor God. They are fresh and low in sodium! You can come up with your own seasoning mix but I was aiming for more time playing less time prepping, remember?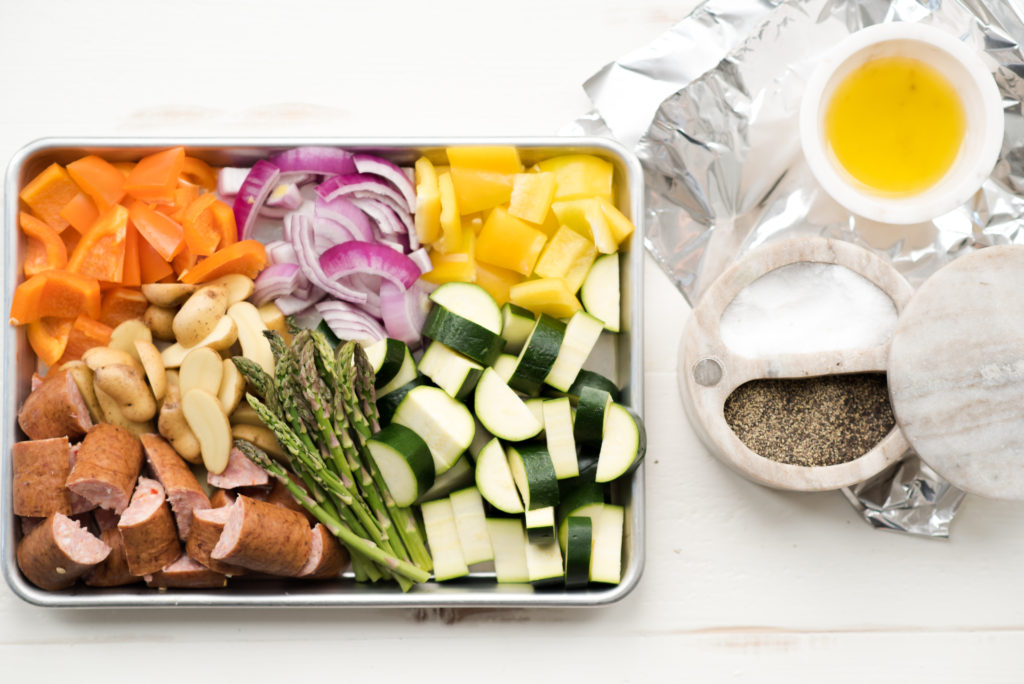 This recipe would also be a great one to do with the kids. Depending on their ages, they can help you wash and slice veggies or just toss them in the foil packets and help you fold them up tightly.
Get creative with your veggies. I used what I had in the fridge, but try whatever's in season. The more colorful the better.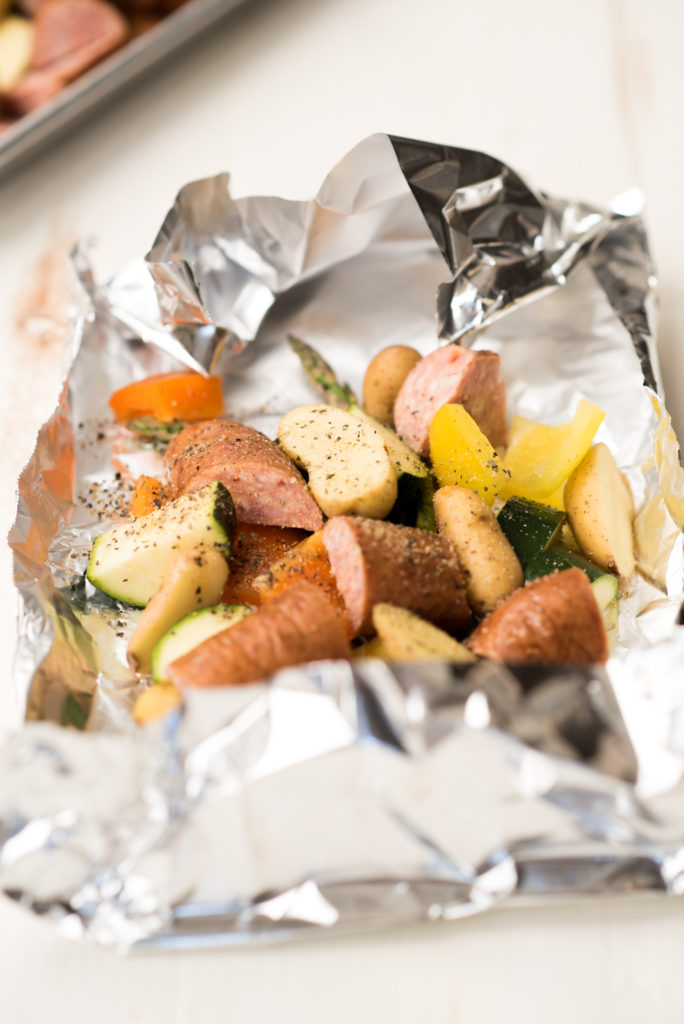 To add a little bulk to it, dump the sausage and veggies over your favorite grain (quinoa, rice, ferro, cauliflower rice, etc.) and drizzle with a green goddess dressing or homemade ranch. Dinner has never been easier!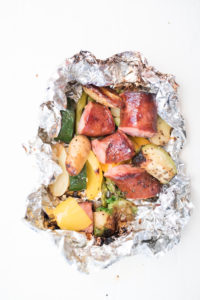 Print
Fast and Easy Sausage + Veggie Foil Packet Dinner
Yield 6 servings
Foil packet dinners are an easy way to get a nutritious dinner on the table. Fill it with your favorite protein, whatever vegetables you have on hand, and seal it up real tight and place it on the grill or in the oven! Serve over rice or a bed of greens with a light vinaigrette or go ol' ranch and keep the whole family happy. 
Ingredients
1 pound of sausage, sliced into 2 inch pieces
1 lb Asparagus, sliced into 3 inch stalks
3 Zucchini, chopped 
1 red onion, chopped into large segments
1 lb fingerling potatoes, split 
1 orange bell pepper, chopped 
1 yellow bell peppers, chopped
salt + pepper
olive oil
seasoning mix of your choice (we used a garlic seasoning like Flavor God, garlic lovers)
Instructions
Preheat grill to med- high heat.
Cut up all vegetable and protein and drizzle with olive oil and season with salt, pepper, and seasoning blend.
Separate into equal portions. Ford up tightly in heavy duty foil packets.
Cook for 15- 20 minutes or until sausage is cooked and potatoes fork tender.
Enjoy!
Courses Dinner
 Do you have a grill? Would you give these a try?