This recipe is ideal for those days when you might want to skip the baked potato or the mashed potatoes laden with butter. These mini Yukon gold's are sliced in half, tossed with tons of goodness, and roasted to perfection. If you are looking for a new go to side dish, your search is over!
Now that you have a side dish, why don't you consider serving it with my always tender and juicy roasted chicken breast or maybe a rack of these irresistible Italian honey baked ribs!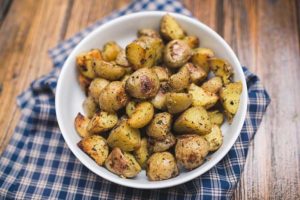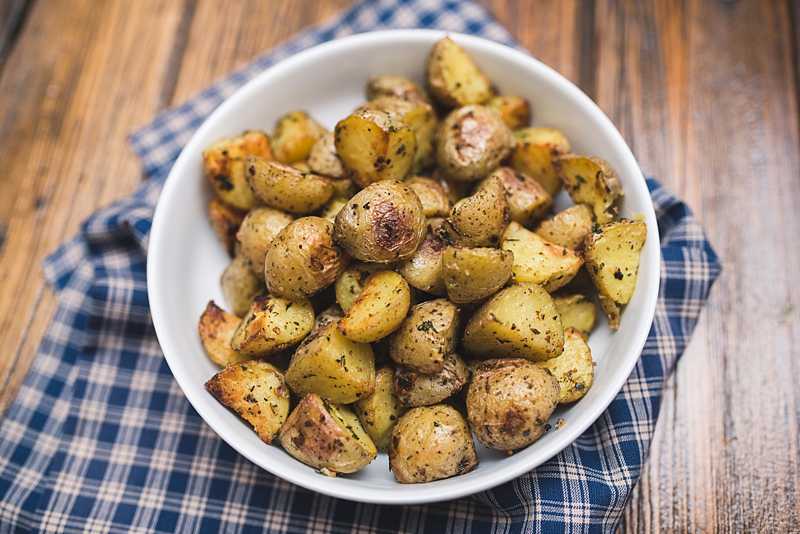 Print
Oven Roasted Yukon Gold Potatoes
Yield 6 servings
An easy go-to side dish. These roasted Yukon gold potatoes are crispy on the outside and soft and almost creamy on the inside. They are beautifully seasoned and pair well with everything! 
Ingredients
2 lbs of yukon gold potatoes, halved
2-3 tablespoons of olive oil
1 1/2 tsp salt + 1 tsp pepper
1 1/2 tsp garlic powder
fresh thyme and/or rosemary; chopped (perfect time to use those left over herbs)
Instructions
Preheat oven to 425 degrees.
Wash and halve the potatoes. Pat dry.
In a bowl, toss potatoes, olive oil, salt, pepper, garlic powder, and chopped herbs
Toss till the potatoes are fully coated.
spread evenly on baking sheet.
Roast for 18- 24 minutes. It really depends on your oven. Flip the potatoes and shake the pan when you start to see brown, crispy edges; usually halfway.
Enjoy!
TIPS
1. I prefer to use garlic powder as opposed to minced garlic because the fresh stuff tends to burn at high temperatures.
2. the type of potato matters. These potatoes don't need to be parboiled because they are already so tender. If this type isn't available, try small red potatoes and make sure to parboil them for a few minutes then proceed with the seasoning.
3. This recipes is one that doesn't have to require a ton of measuring. You want to make sure the potatoes have a light coating of olive oil, even sprinkling of seasoning/ herbs, and make sure there is enough salt. Salt is key when roasting any veggies.