It's finally here ya'll!!! Monday Night football featuring the Chiefs v. Patriots and our little cooking special! Look for us on KMBC (regional only) at 7:08pm right before the game. We can't wait to see how it turned out!
Here are the recipes for all the dishes:
Honey Chipotle Chicken Kabobs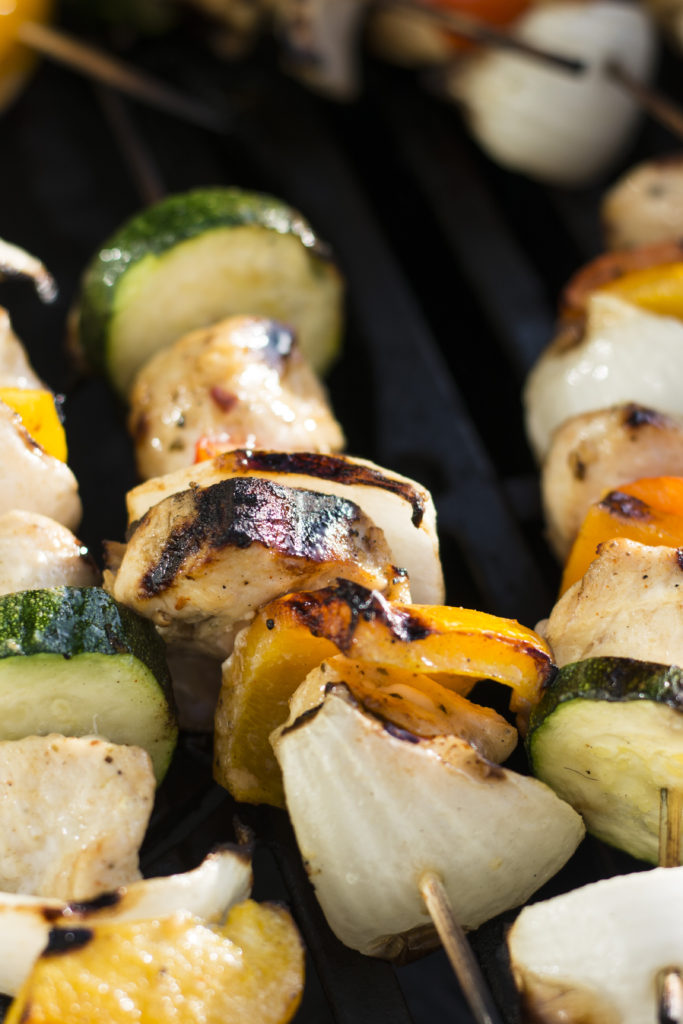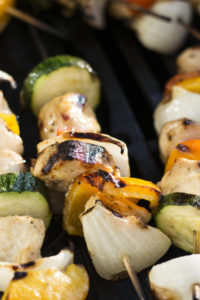 Print
Honey Chipotle Chicken Kabobs
An easy meal perfect for a week night or a tailgate. Crisp grilled vegetables and sweet and spicy chicken.
Ingredients
For the marinade you're going to need:
1/3 cup of Honey
½ cup Apple Cider Vinegar or Red Wine Vinegar
1 cup Vegetable Oil
Juice of half a lime
1 teaspoon Cumin
½ teaspoon of Salt
½ teaspoon of Pepper
1 teaspoon Chipotle Powder
3 cloves of crushed garlic
¼ teaspoon Red pepper flakes
1/2 teaspoon Oregano
1 pound of Chicken breast; diced in 2-inch cubes
1 Yellow Onion, peeled and cut in wedges
1 Zucchini, sliced in rounds
1 Yellow Squash, Sliced in rounds
1 cup of Cherry Tomatoes
1 Bell Pepper, cut into 2 inch pieces
Sweet Peppers (optional)
Mushrooms (optional)
Instructions
Whisk ALL ingredients for marinade in a large bowl. Add cubed chicken pieces. Marinate for 30 minutes to 8 hours.
Wash and chop vegetables. Toss with a little vegetable oil, salt and pepper.
Preheat grill to 400°F.
Drain and discard marinade from the chicken. Thread chicken and vegetables on skewers.
Place Skewers on grill and cook for 12- 15 minutes turning as needed until chicken is fully cooked.
Courses Quick, Grill, Tailgate Approved
 Quick Pinto Beans 
2 jalapeños, diced and deseeded
1 medium yellow union, diced
5 cloves of garlic, minced
1 cup of Negra Modelo
2- 30 ounce cans of pinto beans, rinsed and drained
1 cup of vegetable broth
1 tablespoon of Olive Oil
¼ cup Cilantro
2 tablespoons Brown Sugar
1 tablespoon Cumin
½ tablespoon Chipotle Powder
1 tablespoon Onion Powder
1 tablespoon Garlic Powder
½ tablespoon Chili Powder
½ tablespoon Oregano
1 teaspoon Salt
Juice of half a Lime
Instructions
Sauté diced onion and jalapenos, in olive oil for 5 minutes. Add minced garlic and sauté for an additional 2 minutes.
Add rinsed beans, Negra Modelo, vegetable broth and all the seasonings.
Let simmer for 20 minutes, stirring occasionally.
If necessary, add more liquid (Negra Modelo or vegetable broth).
Before serving, add lime juice and cilantro.
 Cilantro Lime Rice
2 cups of Water
1 cup of Basmati White Rice
Juice of ½ a Lime
1/3 cup of chopped cilantro
1/2 tablespoon of unsalted butter
salt (to taste)
Instructions
Prepare rice as instructed.
When rice is tender, stir in butter, lime juice, cilantro, and start with half a teaspoon of salt. Add more to your liking.
** I have made the mistake of too much lime and too much salt so taste as you go and add more of whatever is missing.
Enjoy and GO CHIEFS!